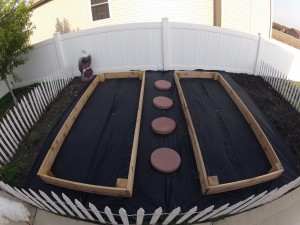 We're a couple of weeks into Spring and it is time to start a vegetable garden! We are constructing a raised-bed garden consisting of two 3′ x 8′ x 6″ frames made of untreated cedar wood. We now have the frames in place, staked a weed mat underneath each, and are ready to fill them with "black gold" early next week so we can begin planting.
The eagle wasn't our idea–the previous residents left it for us. Perhaps it will scare away critters who wish to steal from us. 🙂
By the way, we are novice gardeners and this is the largest and most elaborate one we've attempted. Check back periodically for updates on our progress.